This month, Live Out Loud took 17 LGBTQ and ally students 'Behind the Scenes' at InStyle. The event – coordinated by InStyle's Managing Editor, Ariel Foxman, and Assistant Managing Editor, Lavinel Savu – was a thoughtfully designed exploration into the inner-workings of the acclaimed fashion magazine where students engaged in activities that allowed them opportunities to create and express their own style.
Leading the different activities was a fantastic team of InStyle associates: Eric Wilson, Fashion News Director, Brian Anstey, Design Director, Darrell Blakely, Associate Photo Editor, and EJ Briones, Editorial Assistant. Each speaker was given the chance to connect with students and talk about the successes and challenges they've faced as both a professional and a member of the LGBTQ community.
A student from Abraham Lincoln High School in Brooklyn expressed appreciation for, "having the one-to-one connection with someone that's really been in the industry." Even though she doesn't know what she wants to major in when she goes to college, experiences like this one help expand her view of the world. "It's an amazing experience and you learn so much," she says. She and several other students participated in an activity in which they were asked to put together an interview outfit using clothes pulled from InStyle's fashion closet. (Though, strolling through the closet was an event in and of itself.) Down the corridor in another part of the office, students were literally making headlines. Using images from a recent InStyle photo shoot of actress/activist, Laverne Cox, students selected pictures and created a 6-page spread in which they chose the headline, 'She Knows Who She Is.' "I was excited to get the creative juices flowing," one student says.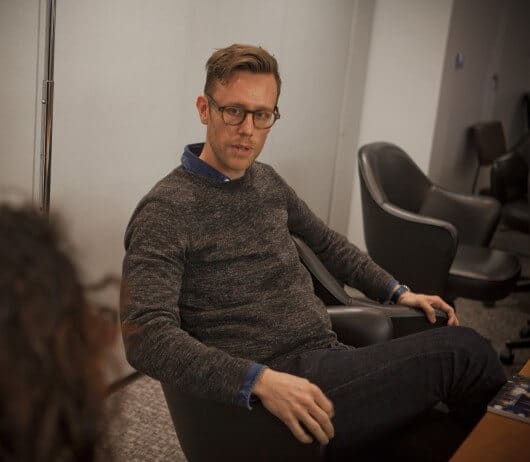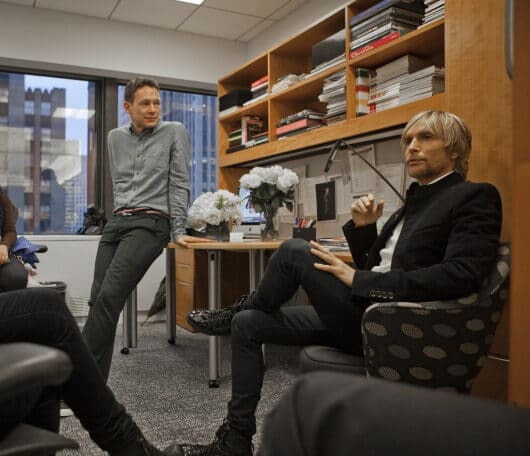 The true coup of the event was a surprise meet and speak with renowned designer, Marc Bouwer. The Live Out Loud team was thrilled to find out Bouwer would be participating. Bouwer spent the entire afternoon alongside students, walking the halls of Instyle and shared details of a life he spent living boldly. Having moved to New York 30 years ago with little to nothing, he helped students understand what it means to create yourself, to take risks, and to remain grateful for the lessons learned along the way.
At the end of the event, students couldn't stop talking about all they had seen and heard.  While our 'Behind the Scenes' events are for students to see what possibilities lie ahead of them as LGBTQ professionals, we owe so much to the professionals who so graciously take on the title of role model and share their stories.
"It was incredibly rewarding to share our personal experiences with the students and show them career paths in fashion and media that they'd likely never considered before," says Savu. "I hope they walked away inspired and more confident than ever to be who and what they want to be, knowing they can turn to their new mentors at InStyle for advice and support anytime."